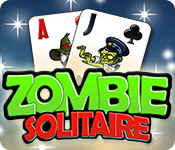 Play FREE for one hour
(76.8 MB)
Download Free Now
Safe & Secure Downloads Quality Tested & Virus Free
or
Full unlimited version
Buy Now Only $2.99
Use Code NEW299
(not include Collector's Edition)
or
Sign-up FREE Trial now to Get


1,000+ games with NO TIME LIMITS.
Zombie Solitaire
Play your cards right and you just might escape the apocalypse in Zombie Solitaire! It's been two weeks since an infected tofu burger transformed some poor soul from a gentle vegetarian into a brain-devouring zombie. One thing led to another and now the slobbering undead have taken over the city. There's only thing to do, run for your life! Before you can get your sweet behind to salvation on a zombie free island, you'll need to puzzle your way through exciting rounds of solitaire and fun mini-games. But watch out! The hungry zombie horde is hot on your heels!
Over 100 solitaire levels
Nine zombie-rific adventure settings
Ten useful power-up cards
A whole lotta zombies
Screen shots


Click images to enlarge
System Requirements:
OS: Windows XP/Windows Vista/Windows 7/Windows 8
CPU: 1.0 GHz
RAM: 512 MB
DirectX: 9.0
HD: 83 MB